Therapeutic cards for family and structural constellations, systemic therapy and psychogenealogy.
Through its images and tools, ©SYSTEMA can become a valuable ally for you, an indispensable instrument full of resources and ideas that still leaves enough space for your creativity and freedom as a therapist, passionate amateur or a consultant: you can use it for self-work and personal development, but also during your individual consultations or even for group workshops.
Systema
What's the use of this for me?
The incredible images of ©SYSTEMA appeal to the imagination, connect us to our unconscious and liberate the voice. They will guide you into the depths of your being while remaining sunny and hopeful. Finally, their possibilities of use are limited only to your creativity and ability.
You can use them in your personal research and transformation as well as in individual consultations, group workshops and in your daily work as a therapist. Whether you are a beginner or experienced in systemic work, family constellations, psychogenealogy, or other fields, these cards will open up a whole new world of possibilities and will make you want to expand and deepen your knowledge!
And why not test ©SYSTEMA  in another therapeutic field that is yours? Challenge it!
For everyone, especially :
Family therapists and facilitators in systemic interventions,
Constellators,
Psychogenealogists and transgenerational psychoanalysts,
Art therapists, narrative therapists and therapists from other schools and approaches who want to appropriate a new powerful and creative tool,
Broader audience: people who are passionate about studying their family tree and family history and interested in the systemic approach.
Systema
What does it contain?
©SYSTEMA is made up of 60 splendid symbolic cards. To facilitate the handling, the cards are accompanied by an explanatory booklet in French and English.
The first edition, limited to 200 signed et numbered copies, is composed of :
60 cards,
A natural linen tablecloth of 68×68 cm,
6 natural gems from 1.5 cm to 3 cm (size may slightly vary),
5 wooden pucks of 3 cm in diameter,
2 strings of 80 cm length,
1 glass crystal in the shape of a diamond, 2 cm in diameter.
Your ©SYSTEMA will be assembled individually with care and benevolence. All copies are numbered and signed with your name by one of the authors.
The 60 cards represent 33 characters and 27 "concepts" (abstract notions, emotions, structures…).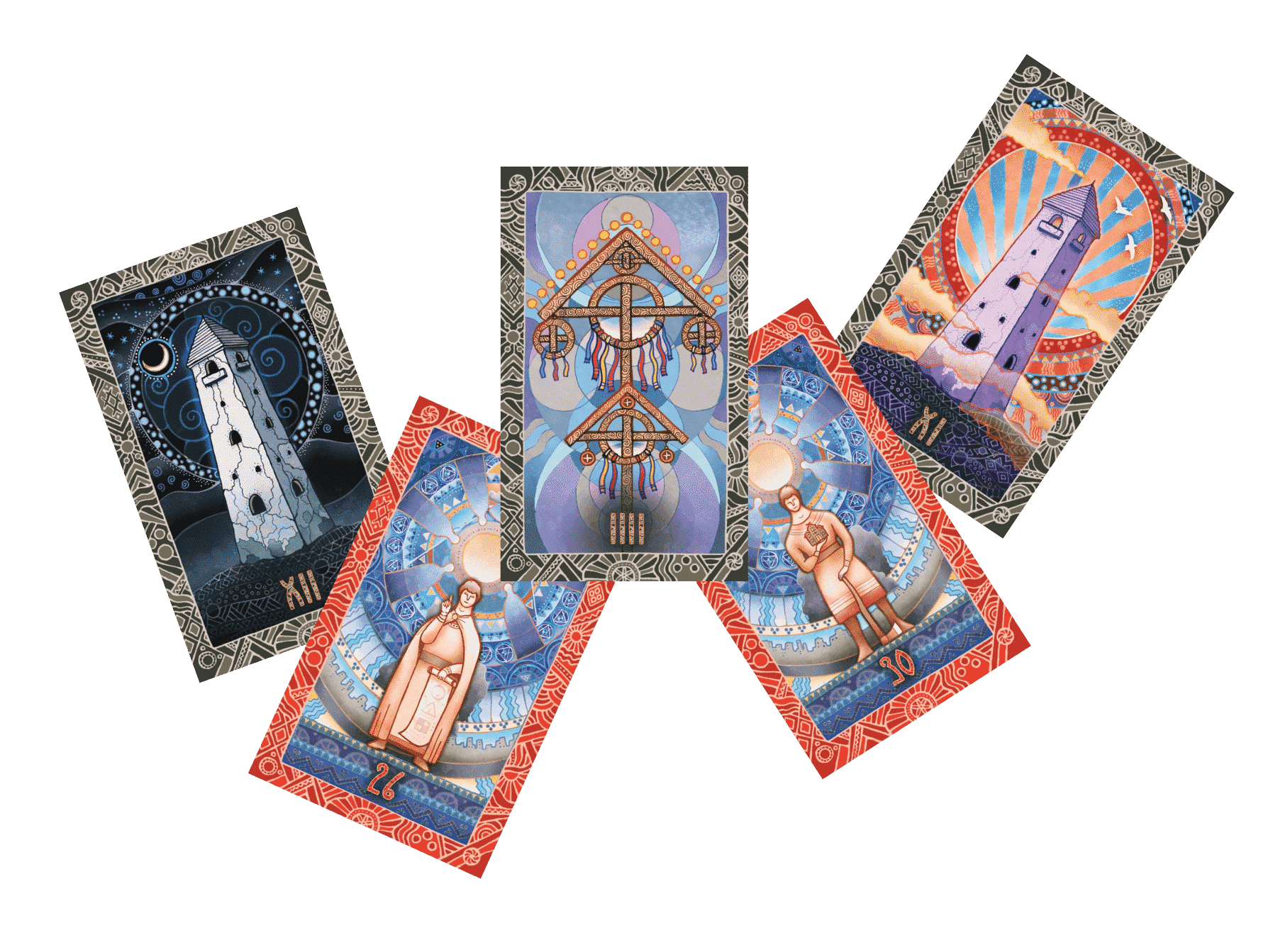 ©SYSTEMA is made up of the following 33 characters:
The Client
The Father
The Mother
Children (x3)
Unborn children (x3)
Women (x3)
Men (x3)
Grandmothers (x2)
Grandfathers (x2)
Female Ancestors (x7)
Male Ancestors (x7)
©SYSTEMA is made up of the following 27 concepts :
The Problem
The Four Pillars
Life
The source of the strength of the lineage
Land of origin
New land
Business, Entreprise
Illness
4 positions of Tetralemma
Time (Past, Future, Present)
Negative emotions  (Sadness, Anger, Guilt, Fear)
2 Mirror cards ("blanc cards")
Miracle
Goal
Gratitude.
Systema
What is its story?
The creation of ©SYSTEMA required 9 months of incredible work following an unbelievable meeting: Veronika from Switzerland, Maxim from Irkutsk (near Lake Baikal), the two crazy enthusiasts exchanged thousands of messages and hundreds of sketches and images, with 7 hours of time difference to create these 60 astonishing paintings, which in itself form a unique system. But years of dreaming, researching, learning and reflecting preceded the conception of this jewel – of these 60 sublime images – as a path, like the signposts on the journey through the systemic fields.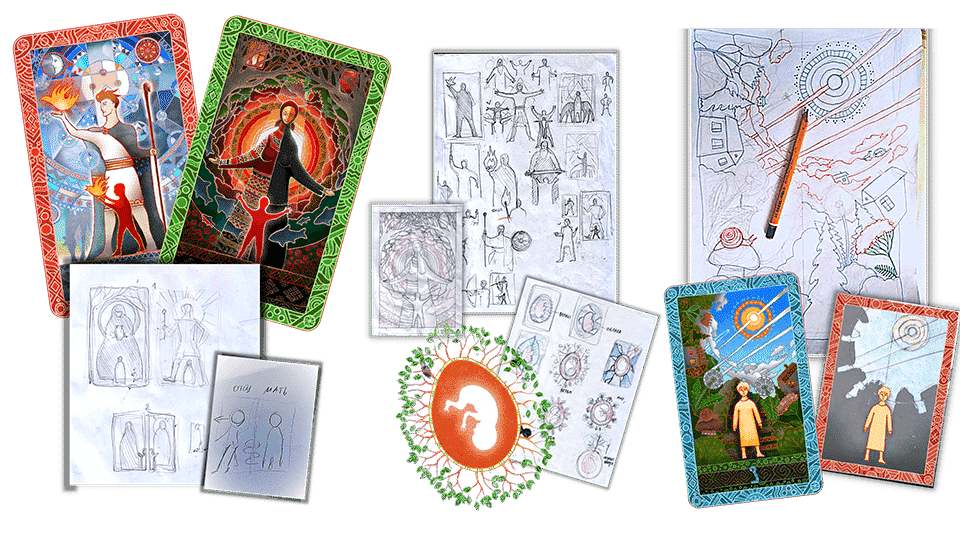 Systema
How to contact us ?
You may have questions that come to mind, or you may have comments, remarks, testimonials or ideas to share with us. In any case, do not hesitate to contact us and we will be happy to answer you!